WritePad 4.0 on the iPad
Beyond writing short notes on yellow stickies, filling out forms and addressing snail mail, I rarely write anything long hand anymore. I would probably break down and cry if I had to handwrite an entire article like this one.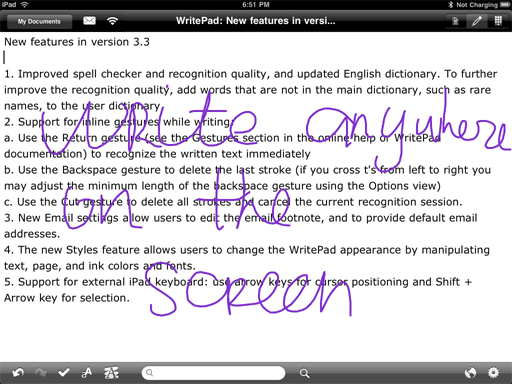 So if I deplore handwriting, what is WritePad (iTunes Store link) a handwriting recognition program doing on my iPad? Well, though the iPad's built-in keyboard isn't the worst feature of the device, it can sometimes be a pain to use. However, the iPad feels almost like those yellow writing pads I wrote on back in the '80s and '90s. So sometimes I'm lounging in my reading chair or in bed and I just want to jot down some notes or brainstorm a list of ideas without typing. This is where WritePad comes in.

This app recognizes and transforms your handwriting almost instantly into type, about 80% of the time. To navigate and edit text, you use finger gestures to perform return and delete-key operations; as well as select text, and cut, copy, paste, and insert special characters.

When handwriting functions are not working as well as you'd like, WritePad has a built-in keyboard and a new Handwriting Input Panel to assist with getting words on "paper", so to speak.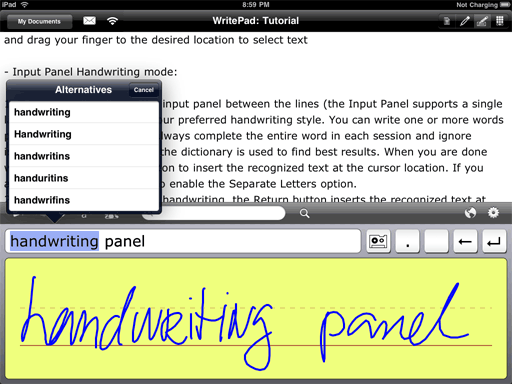 Smart Features
Once you stop marveling at how WritePad can transcribe your handwriting, you discover that it has a handful of other useful smart and hidden features. For example, if you're familiar with type expansion programs like TextExpander, WritePad allows you to create your own shorthand automations. So when you write an abbreviation it will get replaced by the assigned word for that abbreviation.

If you write several pages of text, you can draw a line upwards or downwards and it will take the cursor to the top or buttom of your document respectfully.

If you write the word "all" and draw a circle around it, WritePad will select all the text in your document. Swiping your finger to the left moves the cursor backwards one character, swiping it to the right types a dash after the last character.
The key to using this app is to read the built-in manual found under Help. If you don't learn how to handle the controls you may easily get frustrated and quit.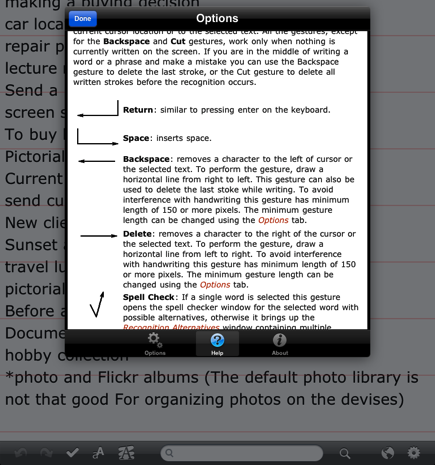 Is It Useful?
I use WritePad when I don't feel like typing or when I'm taking notes during a presentation. It works great for making lists, writing a short letter, or brainstorming some ideas without the hassle of typing on screen or using a keyboard. I wouldn't attempt to write an entire article like this one using the program, but it works nicely for short bits of text.

You might also get better results using a good stylus pen. I purchased the pen that the developer's suggested, but after a few weeks I found that it wasn't as easy to use as my right index finger.

WritePad does include menu controls for changing font size, writing calculations, and deleting the last inputed text. There are also menu controls for switching between the handwriting feature and the built-in keyboard. However, the program really could use a handy menu control for the return key function, because the hand gesture for that function simply does not work half the time, at least not for me anyway.
If you have the patience to learn how to use this technology WritePad will help you turn your iPad into a writing pad. Overall, I rate this app three out of five stars mainly because it doesn't work perfectly, and I don't want to give the impression that it does. However, if you're an avid iPad user and you don't like to type on the screen, you might find WritePad (a $9.99 download) a useful and novel app.
If you check it out, let me know what you think.