Twitter Library Saves Tweets
There's no shortage of Twitter related apps, but for all you dedicated iPad users out there who spend quality time tweeting, re-tweeting, mentioning, hash tagging, trending, and searching a few dozen posts a day, you might be interested in Tweet Library.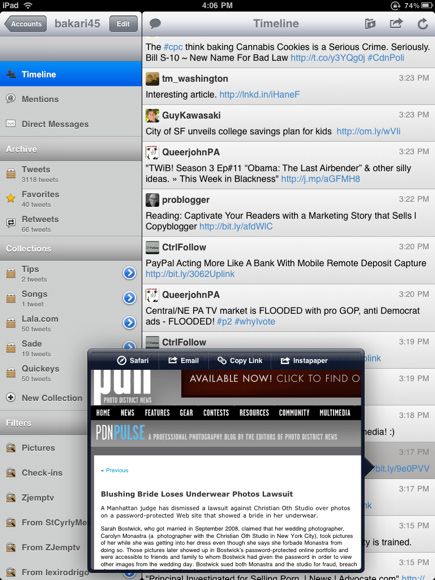 This appropriately named app downloads and archives your last 3200 Twitter posts, mentions, and Direct Messages—enabling you to filter, organize, copy, and export them for printing or further archiving. Twitter Library is a Twitter client as well, of course.
Twitter itself only allows 3200 tweets of a user's tweets to be downloaded, but once they are achieved in Twitter Library they will be saved there. All your future tweets will be saved to your library as well. The developer, Manton Reece, of Riverfold Software, told me that, Twitter Library "does clean out old replies, DMs, and friends' tweets from your timeline, since those will get too high very quickly."

However, if you have some favorite contacts that you would like to keep a part of your Twitter Library this is were the app starts to become like the Library of Congress. Twitter Library has several filtering and collections features so that you can create as many filters as you like for your favorite contacts, or search for your particular topics or trends with just a few taps.

Sure, in other apps, you can tap on a user's profile to access his or her recent tweets, but with Twitter Library you can create a filter that will put that contact's name in the side bar where it can be accessed with a single tap. In turn, you can copy the contact's tweets to a collection that will be saved in your library. The same goes for topics and trends you search for. However, a downside to filtering in Twitter Library is that the filters don't update automatically. The developer says that's a feature request he will address in future updates.

Twitter Library also allows you to export your collections via email, iTunes, and to TweetLibrary.com—a companion website of collections posted by users. So for example, I posted all my tweets about my favorite applications, QuicKeys.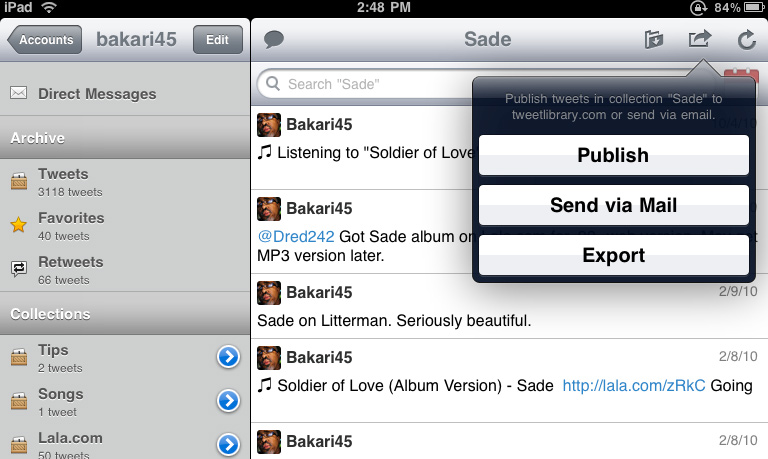 Twitter Library has a few other features, such as a filter for accessing all of your and contact's posted photos via Twitter.
There are, though, a few bug issues with Twitter Library. I found that it's best not to do any other activities in the app while it conducts the initial download of your old tweets, otherwise the app might crash.
In many ways, Twitter Library filtering features are much like the ones found in another client app, TweetDeck; but I find the former app a little more streamlined and less cluttered for my tastes.
With that said, TweetDeck is a free app and Twitter Library is not. Twitter Library is a whooping $9.99. It's pricey, but for Ninja Twitter users, it's well worth considering.
After a few hours of using it, Twitter Library has already replaced the Twitterrific app on my iPad's home screen.