Streaming Music with Rdio.com
Well, after the Apple's buyout of Lala.com back in December, I thought I had learned a lesson and would never sign up for a streaming music website again. Many of us Lala members were devastated to lose all the web albums and songs we had purchased, and we were even more let down when Apple didn't replace the site with its own cloud music service via iTunes.
To its credit, Apple did soften the blow a little by giving Lala members iTunes Store credit for the streaming music we purchased on the site. But beyond that, in good old Apple fashion, there still has not been an indication of when Apple will take iTunes to the cloud.
But now, not even a year later, I'm subscribing to another streaming web music service. Though there are several availabe options, I have chosen Rdio.com for a number of reasons.
Web Music Is Affordable
First off, for an avid music listener who works at his computer most of the day, web music seems to be the most affordable way to access songs and albums. My iTunes library is currently at 120 gigabytes with over a thousand albums. Compared to other music listners I know, my music library storage is pretty modest.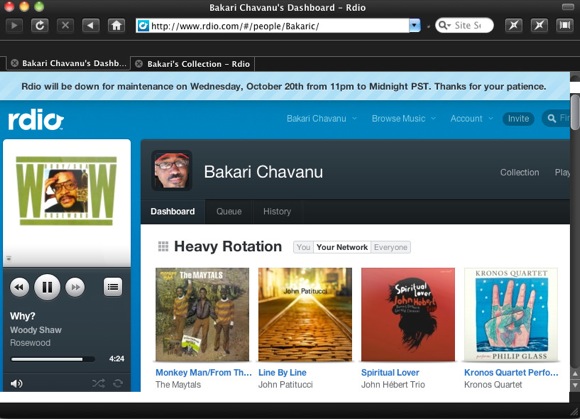 But if I had to purchase and download all the MP3 music I wanted to listen to, not only could I not afford it, but in the age of wireless cloud computing I simply don't see a need to frequently download, build, maintain, and constantly back up a costly, mammoth music library.
With Rdio.com, I pay $5.00 per month and get access to any song and album in the site's catalog of over 5 million tracks. For an addional $5, I could have selected tracks streamed to my Apple mobile devices via the Rdio app, as well as well as listen to that music offline. Rdio's subscription is even a better deal than Lala.com, which required you to purchase individual songs and albums. So for $10 per month, I could literally listen to a case load of albums in thirty days for the price of one album download on iTunes.
Member Contacts
Benefit number two: when I link to my Rdio account, I'm greated with albums that my Rdio contacts are lisenting to. These contacts are my personal d-jays who both share my interest in jazz music and introduce me to artists and tracks that I would most likely never hear.
However, unlike the social networking features of other similar sites, such as Facbook, Rdio doesn't provide a way for members to message one another directly. This was a popular feature on Lala.com and I'm hoping that void will be filled on Rdio. For now, contacts exchange messages via their album reviews.
Site Navigation
Compared to other web music site, MOG.com, that I gave a trail spin, I have found Rdio much easier to navigate. Songs can be sampled and played without having to link to an artist page. You can create and share albums, collections and playlists of songs and get site recommendations based on your previously played tracks. All these features are pretty well designed, though I find adding tracks to playlists a little too cumbersome—requiring several clicks.
I primarily listen to Rdio music on my desktop throughout the day. I rarely experience problems with Internet streaming from the site. I have not tested how well Rdio music streams to mobile devices. I might to upgrade to that service when multi-tasking is included in the iPad iOS.
Rdio also provides an Adobe Air-based desktop client that connects to your account. But it seems like Adobe sends out upgrades to its software for too frequently for me, and the desktop player itself does only gives you access to your current playng album.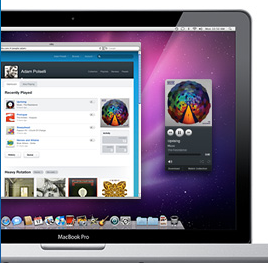 So instead of using the desktop client, I created a site specific brower using the free Fluid app, which means my Rdio account is set up in its own web broswer. I can quickly access it using Butler by simply clicking on the upper-lift corner of my desktop screen. I found playing and searching for songs on Rdio this way easier than on iTunes.
Other Features
Rdio.com includes a few other nice features such as keyboard shortcuts to play and pause music, add to albums and songs to your queue.
You can also access a "radio station" for each artist/group on the site which consists of a playlist of tracks from the artist/group's collection.
In addition, Rdio provides New Releases and Top Charts for helping members find new music. I also like that when you link to an album's page, you can link and see which members have listened to that album. This is an awesome way to discover and make contacts on the site.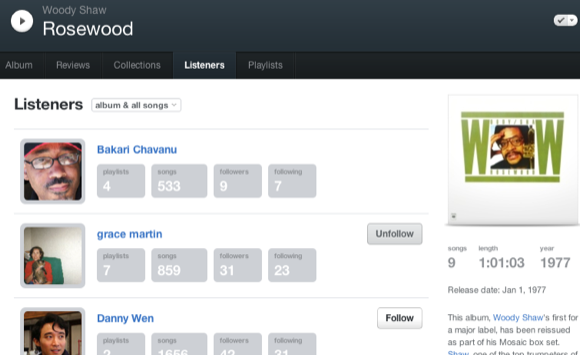 Overall, I'm pleased with Rdio.com. If it manages to stay around long enough, the subscrption fee for the site is a seriously more affordable way to listen to music than downloading expensive tracks from iTunes.